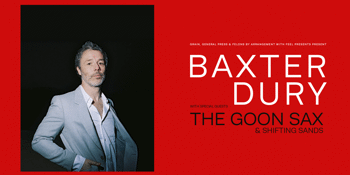 GRAIN, General Press & Felons Barrel Hall
Baxter Dury (UK), The Goon Sax & Shifting Sands
Baxter Dury (UK), The Goon Sax & Shifting Sands
Felons Barrel Hall (Brisbane, QLD)
Sunday, 5 June 2022 6:30 pm
GRAIN, General Press & Felons Barrel Hall present:
Baxter Dury (UK), The Goon Sax & Shifting Sands & more tba.
June 05 | Felons Barrel Hall
--
BAXTER DURY
We've had two decades of Baxter Dury's louche sardonic music, twenty years – twenty years! – of late-night London snapshots, shuffling basslines, comedown disco tunes, all run through with seedy bleakness and a sweet love for humanity.

THE GOON SAX
Since forming in high school, Brisbane band The Goon Sax—the trio of Riley Jones, Louis For-ster, and James Harrison, best friends who take turns writing, singing, and playing each in-strument—have been celebrated for their unpretentious, kinetic homemade pop

SHIFTING SANDS
Shifting Sands beginning was intentional. Of this there can be no doubt. Though the initial intention still remains a mystery the result from this beginning can only be described as a "happy accident".

Geoff Corbett (SixFtHick) and Dylan McCormack (Gentle Ben & his Sensitive Side, The Polaroids) glued together words and music as a post-work debrief to take the edge off dealing with life's little realities of someone else's problems in a Drug & Alcohol unit in a faraway hospital.
It was never meant to mean anything. But it did.

At the core Corbett and McCormack along with a revolving door of Brisbane's finest managed to spit out something not heard and not tried on the stage-boards for quite some time, maybe forever ( in northern climes at least). It was tagged down-beat, depresso-core. The Sands were the quietest heaviest band around and still are.