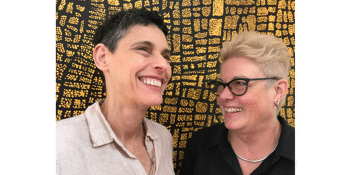 Feel Presents
Do Re Mi
TBC
Marrickville Bowling Club (Marrickville, NSW)
Friday, 1 March 2019 8:00 PM
Do Re Mi play the Marrickville Bowlo!

The Sydney born band featuring singer Deborah Conway and bassist Helen Carter best known for the indie chart topper Standing On Wires and chart hits Idiot Grin, Adultery, Guns and Butter and the no.4 smash Man Overboard take a break from their By The C festival shows (with Icehouse, Sunnyboys, The Church and Mental As Anything) for an intimate evening in Sydney.

"After 30 years we're opening a time capsule and rediscovering artefacts that have been out of circulation for more than half my lifetime. Breathing life back into this treasure trove of tunes, words, riffs & rhythms is a loving enterprise. I come to them again with an appreciation of our passion, affection for our naivety & awe of our energy; I am looking forward to reopening that time capsule for our older & wiser audiences & for their great grandchildren ;-)" - Deborah Conway

"Playing those songs again and listening to the words, I'm struck by how danceable they are and sadly, how the forces we railed against persist. Those songs are still relevant and it goes to show how long it takes for real social change to happen." - Helen Carter

The reinvented Do Re Mi will also feature drummer Julia Day and keyboardist Clio Rener – why the all-female line-up? Put simply, it is a well-timed moment to showcase women playing the type of strident, challenging music the songs of Do Re Mi represent. Balancing the gender scales, if you like. Always asking questions, debating the answers, and having fun making a damn fine racket.

Its Do Re Mi: musically, socially and politically as relevant now as they were then.